Melbourne Florida Digital Signs
Call (321) 432-3685 for a free digital signage consultation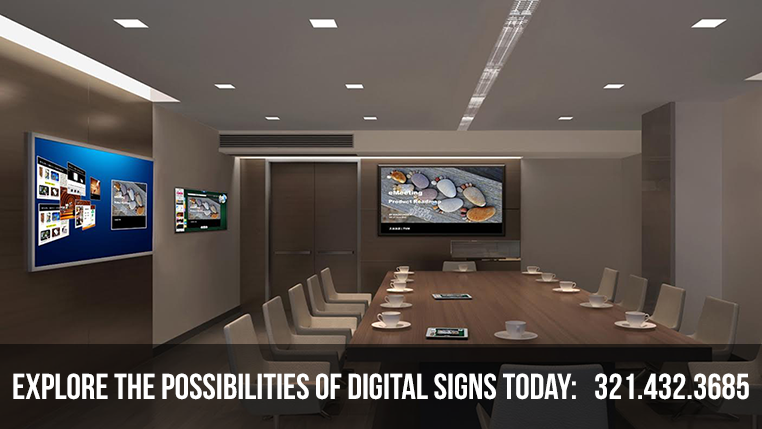 Digital Signage is a display device (typically a LED / LCD / Plasma TV or a Computer Monitor) which is used as an in-store sign to display constantly changing, computer generated, animation, photo-realistic graphics, full motion video, and text. The software comes bundled with customizable templates, which makes the task of advertisement creation extremely easy and in the process eliminates the need for the business to depend on professional graphic designers or advertising agencies.
Corporate Communication:
Due to their ability to change content in real-time, Digital Signage is used for a number of different purposes. They are often used to provide local information to the public such as displaying weather reports, showing fire exits and providing information to tourists. Companies use Digital Signage for providing corporate information and news. This technology is often used for making advertisements aimed at local audiences. Institutions could use this technology to direct their customers to the relevant areas and also to reduce the perception on waiting time when customers wait to be served.
Restaurant Communication:
Digital menu boards have, replaced printed or painted signage. These boards make it very convenient for you to keep your customers updated on prices and offers. Unlike static sign boards, Digital Signage displays are able to display multiple messages with one large board as they could be displayed sequentially for a certain period of time. Using digital signage managed by your own business gives the business more control over what may be displayed and at what time. Digital menus afford you more options for communication with customers. These include everything from healthy items to, new additions to the menu and promotions intended to boost sales figures. As the food business becomes more competitive, restaurant chains have to seek ways of having more clients walk through their doors. Digital signage is one of the innovations proprietors are using. Through this innovation, you can have a menu display that runs through a full-motion video. Unlike static menus, it is easy to effect price changes and introduce new offers almost instantly. Furthermore, digital menus eliminate the need for printing updated menus, an exercise that can cost you tens of thousands of dollars every year. With, digital display boards, your managers can make changes and post periodic updates in real time.
Marketing Solution:
In addition, local business from the area would be willing to advertise their services to your customers, who tend to look at the Digital Signage screen periodically and are a captive audience. For most businesses, digital signage is the best solution when it comes to advertising. If the business has a limited budget and can manage their own advertising strategy using such software, the best thing is to change over to digital signage technology; which will save on advertising costs and the businesses marketing is going to be more effective.
So as you can see, digital signage offers all around benefits for your business. Your clients will be happy, your operations will be optimized and ultimately (and more importantly), your sales will be on an upward trend. With all these benefits, what exactly are you waiting for?
To get started, contact Crown Light Studio for a FREE quote for custom dynamic digital sign solutions.
To speak with a Digital Signage professional in the Melbourne, FL or Palm Bay, FL area, call (321) 432-3685.